I have been an avid Audible listener for more than three years, even writing a recent blog post on the topic on my other website – The Wonder and Value of Audibles. 
So I was very excited when a narrator approached me this past winter about narrating one of my books! I currently have three books out as Audibles and plans to have more narrated as soon as time and money allow. I still plan to write physical books and ebooks, of course. But it is exciting to hear my books! I hope you enjoy them as well.
You can hear samples of each when you click on the link or the covers and go to Amazon. I think you will admit that both narrators did a wonderful job. All three of these have been enjoyed by students and adults: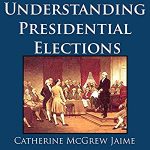 Understanding Presidential Elections
(Technology is failing me, and I can't get the cover and the link to work together on this first one!)
Happy listening!
Cathy