D.C. – One of My Favorite Cities to Visit
Washington, D.C. has to be one of my favorite cities to visit.  Even though it is almost exactly 700 miles from my home, and I haven't had any "work reasons" I needed to go there, I have managed to visit D.C. an average of once per year for the past twenty years.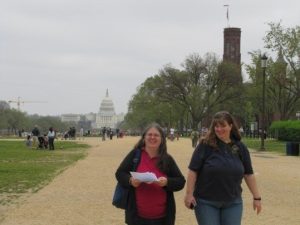 My excuses to go started with the first teachers' conference I attended in the area and extended to a political event, just to play tourist, or to take students. Besides traveling there at least four times with my students, I've traveled alone, with family, and friends. I've gone for only a day or two, and I've gone for as long as a week or more.
I love to go to D.C. for a number of reasons – there is never a shortage of things to see and do – and most of them are inexpensive or free. And it helps that the vast majority of them are worth going to again and again.
Sites Frequently Visited
The above are important points considering how often I've gone with other folks who have never been before – which means I've been to numerous places countless times, including, but not limited to:
Taking Students
As I plan my next student trip to D.C. for later this spring, I have to take into consideration how many of us are going, which of the students have been before, and what they have and haven't seen already.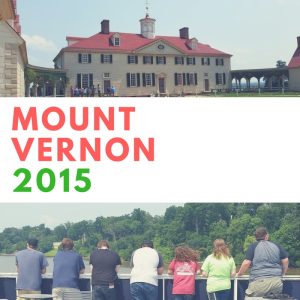 Two years ago I brought some of the same students and we did things that weren't typical for us: Mount Vernon, The Arlington Cemetery, and the Holocaust Museum. So this year we may very well go back to some of my old standbys.
Promises to Myself
Since there is so much to do, and never enough time to even make a small dent in the list – I have made myself three promises that I work hard to keep:
Always visit at least one new site.
Enjoy however much time I have in the city on each visit – whether it's hours or days.
Remember I'm "keeping something for the next time"! That was a piece of advice my Uncle Dick gave me and my good friend Dee on one of our many trips to Williamsburg, and it has served me very well on my many trips to D.C.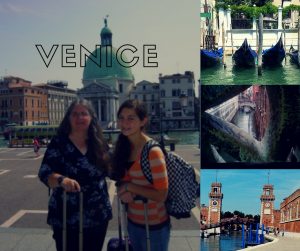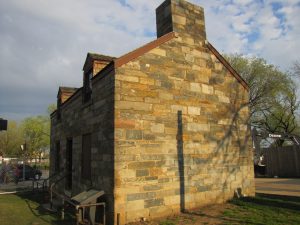 Of course, all of the above promises work well for any place that we have the privilege of visiting multiple times. Venice is becoming another such place for me. I've been there twice, and if all goes well, I'll get there two more times this year.  But, more on that in a future post.
So, if you're going to have the privilege of visiting D.C. for the first time, I can offer you several suggestions based on my experiences (and of course, like with any other suggestions, you should choose and use just the ones that sound good for you).
Things to Consider: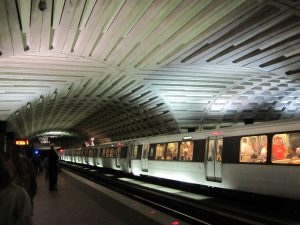 1. Public Transportation is very easy to use in D.C. and fairly inexpensive. I like to park at the end of one of the color lines, since they generally have bigger parking lots, and take the subway in from there. (Vienna for the orange line generally works well for us.) It's a good idea to compare prices for daily tickets versus passes. If you check out the website before you go, you can get a better idea of what works best for your particular visit. Once you're in the city – walking is generally the best way to get around!
2.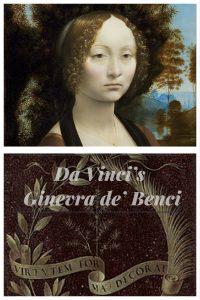 My next recommendation for planning a trip like this is to make a plan based on how long you'll be in D. C. – but then be flexible. Plans are a great starting point – but things happen. (We've adjusted D.C. plans because of a late start one morning that resulted in NO parking spots left in the Vienna parking lot; when there was a suspected shooter in the D.C. area; and when we walked by the National Museum of Art on our way from one place to another, and students asked to go in for a little while. Of course, now, I almost always stop at the Art Museum to make sure my students see one of my favorite da Vinci paintings!
3. In order to make a plan, take into consideration how much time you have, what the highest priorities are for you, and where they are in comparison to each other. A city map like this one, is helpful if you're focusing on the sites/museums on and near the National Mall.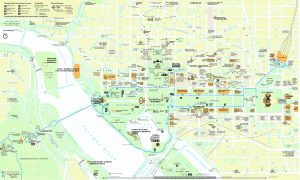 4. Be sure to look at the days and hours of the places you want to visit before you even come close to finalizing your plans! Some of these places are only open 5 days a week, and some are 6 days a week (and a few are 7 days).
If I have a group that hasn't been before and two days to tour, this is often how I schedule our trip:
Day One – Seeing the monuments along the mall, between the Washington Monument and the Lincoln Memorial, and one or more of the museums along the Mall (the American History Museum, the National Archives, and the National Museum of Art being high on my list of priorities). Needless to say that can be a day with LOTS of walking. (If you're really feeling energetic, add the side trip around the Basin!) On the mall day we used to eat at the food court at the Old Post Office, but since that's no longer a possibility (see the photo below), we've eaten recently at the food court at the Ronald Reagan Building and International Trade Center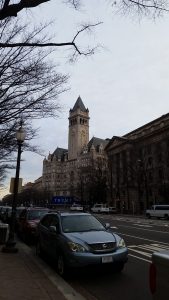 Day Two – On the other side of the Capitol we can focus more on sites like the Library of Congress, the Supreme Court building, and Folger Shakespeare Library. On that day we often eat at the food court at Union Station.
If you haven't been to D.C. before, I hope you are able to make a trip. And if you have been, I hope you are able to go again!
Did I leave anything important off my lists? Any place in particular I should add to my "someday soon" list?
Happy Traveling!
Cathy