I wrote a previous post, Upcoming Visit to Venice, a few weeks before my latest trip to Europe. I thought it only right to give an update now that the trip is over.  In case it's not already clear, Venice is one of my favorite cities to visit!
Housing
I've now made four trips to Venice (I do get to count before and after the cruise as two times, right?).  On my first trip there I found a reasonably priced hotel recommended by Rick Steves; it was right off the Grand Canal, fairly close to the Rialto Bridge.  On my second trip there we stayed in a hostel on Giudecca, across the Venetian Lagoon from Venice. (I didn't have anything to do with setting that one up, but considering we had a dozen or so women in bunk bends in one room, I can't imagine the per person cost was very expensive there.)
And on this trip we rented two apartments through Airbnb – one in San Polo, very close to the Grand Canal, and one on the mainland, in Mestre. Each different one had its own advantages.  The San Polo one cost a bit more, but was conveniently located near the stop for both the San Stae ACTV water bus and Alilaguna water bus (more on those in a bit). The second one was easy to get to on the #2 bus  (which we were happy to find out was covered by our passes).
Before you make your final decision on where you want to stay, it's a good idea to determine how you will get there. What looks like a good deal may be more trouble than it's worth if getting there is a pain. Or that great deal you thought it was may not be so good if transportation turns out to be more expensive than with other options you turned down.
Case in point, my husband had to fly into Venice the day before the rest of us. After some searching I found an inexpensive hotel on the mainland. But when I investigated the transportation requirements of him getting from the airport to the hotel, it was actually easier, and almost exactly the same total cost to put him up that night at the hotel closest to the airport. So I cancelled the first reservation and made a new one. With the hotel next to the airport he was able to get there quickly with their shuttle bus. Then he shuttled back to the airport to meet us the next morning. Simple, and not more expensive when hotel AND transportation were considered.
Transportation
As I mentioned above, the airport is on the mainland. Once there you have several options to get to the city itself – train, bus, or special water buses being the three cheapest. (These are Alilaguna water buses, not the ACTV Vaporettos discussed below). A train or bus is a cheaper way to get to Venice, but arriving on an Alilaguna, and approaching by water is certainly more fun and seemed more poetic. (My third time in Venice was actually the first time I arrived in Venice that way, the first two times I had come by train.) You will have the option of buying a round trip ticket, but we knew we would be getting back to the airport a different way, so we only bought one way tickets. (Most of us purchased them when we arrived at the airport, but I think we could have saved a euro for each ticket if we had ordered them online.)
Within the islands that make up Venice you have two general options for getting around – by foot or by water. Walking is great, but you will likely find yourself crossing lots of canals, which means crossing lots of bridges – something I don't recommend doing with luggage. (Which of course means we did lots of that as we waited to get into that first Airbnb!)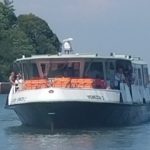 Water buses (ACTV Vaporetto) are a great method of traversing Venice and the surrounding areas. As a general rule you DON'T want to buy single time tickets (at the time we were just there a single ticket was 7.5 euros, a 24-hour-pass was 20 euros, and a 48 hour pass was 30). We decided in advance that we wanted to do the 48-hour-passes for our first 2 days in Venice. We had actually thought about going with just a 24-hour-pass when we returned a week later. But, after refiguring it, we went with the 48-hour pass then too. It only takes 2 trips each day to break even, and we did considerably more than that on each of the 4 days we were in the city. If you have the time and energy to do LOTS of walking, you may not need the water buses as much as we did – though I personally think they are a great way to see the city!
Gondolas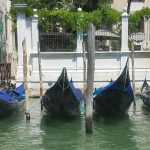 When people think of Venice they almost always think of gondola rides. And we did take a gondola ride this time (which because there were six of us wasn't outrageously expensive). But, honestly, it's not something that I feel like I had missed out on by not doing before. It does take you into some of the smaller canals, which is part of the reason we wanted to do it. But, again, the price is fairly steep, especially if you have a small group. (Oh, and be sure you know where you're getting dropped off. There was some miscommunication there and we were not dropped off where we thought we were going to be. Which led to even more walking.)
Restaurants and Food Options
One thing to keep in mind in Venice is that almost EVERY restaurant will add a cover charge just for sitting at their tables. The amount is per person and should be listed at the bottom of the menu. On this past trip we spent everywhere from 2.50 to 5 euros for cover charges (again that's per person). But, on the other hand, tips are not expected, so it sort of evens out.
One of my favorite things to buy in any city in Italy is gelato! Be sure to check it out as quickly as possible. (If you're not familiar with gelato it's sort of a cross between ice cream and sherbet, only better!) I recommend buying it as often as possible when you are in Italy. Even gelato stands will charge you more if you want to eat at their tables – they don't charge a cover charge per se, but they generally have "eat in" prices that are higher than their "take out" prices. Because I was traveling with a knee injury, sitting regularly was important to me, and I wasn't opposed to paying those extra fees.
Our first night we ate at a fairly fancy restaurant overlooking a canal. It was an interesting experience – we bought a large fish that had been covered with salt and then baked. Sold by the kilo it was a pricey dish, but it was a different experience and the only time in Venice that we spent that much on a meal. It's okay to splurge once in awhile. (Okay, there was one meal after the cruise that we dined at a restaurant near our apartment in Mestre that was slightly more expensive – but we were coming off the cruise and ordered several courses – so we actually ordered and ate more at that restaurant, and did pay a bit more, but for just an appetizer and a main dish, the restaurant in Venice was considerably more expensive.)
Close to the Airbnb apartment we rented in Venice we had no difficulty finding a nearby bakery to order pastries for breakfast, a coffee shop for the coffee drinkers, and even a little ice cream shop that sold amazing popsicles and shakes.
We did find one little restaurant near the Rialto Bridge water bus stops that was self-serve and didn't have a cover charge.  Decent food, okay restrooms, and cheap. Sadly we found it on our last day in Venice, or we would likely have eaten there more than once.
Toilets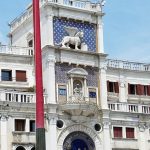 Not a usual topic for a blog post, but something to keep in mind when you're traveling in Europe. Toilets can be tough to locate when you need them. When we were in Venice, waiting near St. Mark's for family members who were on a tour. I actually found the closest public toilet on my map app. It was kind of tucked away, off the main section, so I was glad I had searched for it electronically before searching for it physically.  Oh, and did I mention, public toilets cost money? We spent anything from half a euro to two euros for a public restroom. Again, money well spent if you ask me.  To avoid having to spend too much money on public restrooms, be sure to use the ones that are available at any restaurants you eat at or any museums you visit!
Things to See and Do
As I mentioned in my first post about visiting Venice, the "must sees" include the Rialto Bridge, St. Mark's Basilica, and the Doge's Palace. Since I had already seen all of those, I was hoping to make it to a couple of new places – Murano Island, where they've been making blown glass for generations, and the Jewish Ghetto (either the first or second ever such ghetto, depending on which history you believe).
Because of some issues getting into our first Airbnb, we lost several hours on the first day, and our trip to the Jewish Ghetto got bumped from the itinerary. (That's okay, it gives me something to have on the top of my list for the NEXT time I get to visit Venice!)
We did make it to Murano. We took a free water taxi out to the island to see a glass blowing demonstration. It was impressive – the prices at the attached shop not so much. But we walked up to some other more reasonable shops and did find some nice Murano glass to purchase.  When we were done shopping we had lunch at a reasonably priced restaurant before taking a water bus back to Venice proper.
After the fact we read a review of the free taxi that said it wasn't a good idea. But we liked it. It took us through some smaller canals, was less crowded then the water buses (just the six of us), and we got some good pictures. Once we got to the factory/shop who had sponsored our ride we didn't feel obligated to make purchases there. We enjoyed browsing and moving on.
Another outer island I visited for the first time was Burano. Burano is known for its lace and for the pretty colors of its buildings. I really hadn't thought of how few bright colors we were seeing in Venice until I saw the brightly colored buildings in Burano.  The only difficulty with going to Burano was getting back to Venice – it was late in the afternoon by the time we got out there, so the water buses were really crowded going back! The worst lines we ever stood in to get on, and the absolute most crowded, standing room only, water bus we rode on, was that return trip.
But I was still glad we went.  We had no idea what in particular we should do when we got there, so we started by following the crowds. Everyone seemed to start down a narrow road running perpendicular to the canal, so we started down it also. Lots of kiosks and shops along both sides as we headed into Burano.  We had actually found the few little souvenirs we wanted by the time we had headed back just 15 minutes or so. But I'm glad we kept going a bit further. There we encountered a small canal and along it the truly beautifully painted buildings. (That's where I took the picture shown just above.) So if you can handle the walking, be sure to go back a little ways and do some exploring. There may be even more to see, I'm not sure, but that was as far as we made it.
Another place we got to see a bit of was the Arsenal, an important part of Venetian history. As far as  I know tourists aren't allowed into the Arsenal itself, but we spent some time in the small, but packed, museum of Venetian Naval History that is right outside the Arsenal. Well worth the time, in my opinion.
Searching for More Information
As I usually do when planning such trips, I did lots of research. Even when I got home I was continuing to search for information for the next time I get to visit Venice.  Along the way I found several informative websites, but one of the most comprehensive ones I ran across was Venice for Visitors. I especially liked their suggestion that to really see the city, a visitor should try to spend a week there – not this time, but maybe next time!
Happy traveling!
Cathy